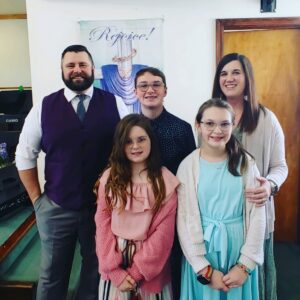 Hello and good day to you! I am the minister here at TCC. I started here in September of 2020 and I love it! My wife Katie and our 3 children John, Isabelle, and Sydney moved here from Salem Ohio. I have taken bible classes from North East Ohio Bible College and also Summit Theological Seminary. I served at Lake Mount Church of Christ as a youth minister for 7 years and then was the minister at Highland Christian Church for a year and a half, before moving to New York.
My wife and I have grown up in the same church and became high school sweethearts then got married in 2005. We love to do anything outdoors and enjoy good food. I enjoy camping and 4 wheeling and anything where I can be around trees! I enjoy to hunt and fish and love to cook.
I love to tell people about Jesus and share the Gospel to anyone that will listen. We would love the opportunity to get to know you!
If you have any questions about the church or myself please don't hesitate to call, text or email me.
jtindell1920@gmail.com — 330-429-5717